welcome to
The Candle Bar - Custom Candles
Create your own personalised and custom candle with Australia's only custom scent service.
Smell is one of our strongest senses. A Harvard article recently explained how strongly scent, emotion, and memory are intertwined, because the signals are so closely linked together. At sent., we wanted to create the perfect personalised one-of-a-kind candle service. One that can remind you of your own unique memories; a wedding day, a person you love or simply somewhere you miss.
We are completely throwing out the approach of limited pre-made fragrances. With The Candle Bar, you're in charge of creating and describing your perfect scent. One that is as individual as you, made by you! 
The Candle Bar is a custom candle that is perfect as a gift for someone special, or simply to treat yourself.
•••••••••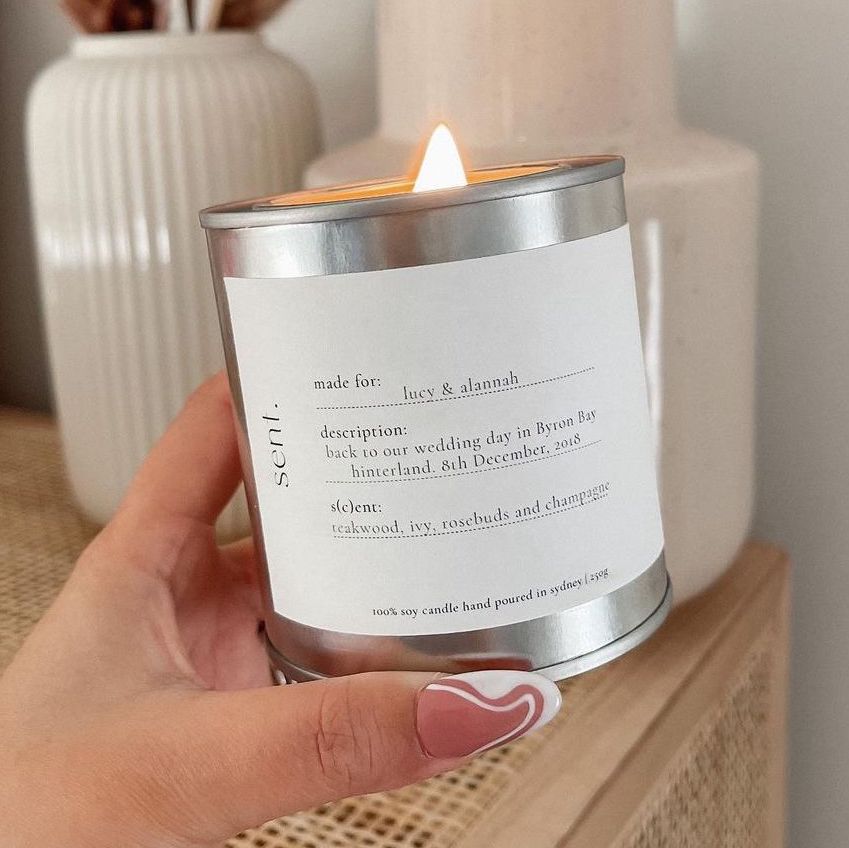 Step 1: You unlock your scent

Take our short quiz and tell us a little about the who's, what's and why's for your unique scent. Our questions are super simple and directional, it will give us everything we need to know for your personalised candle!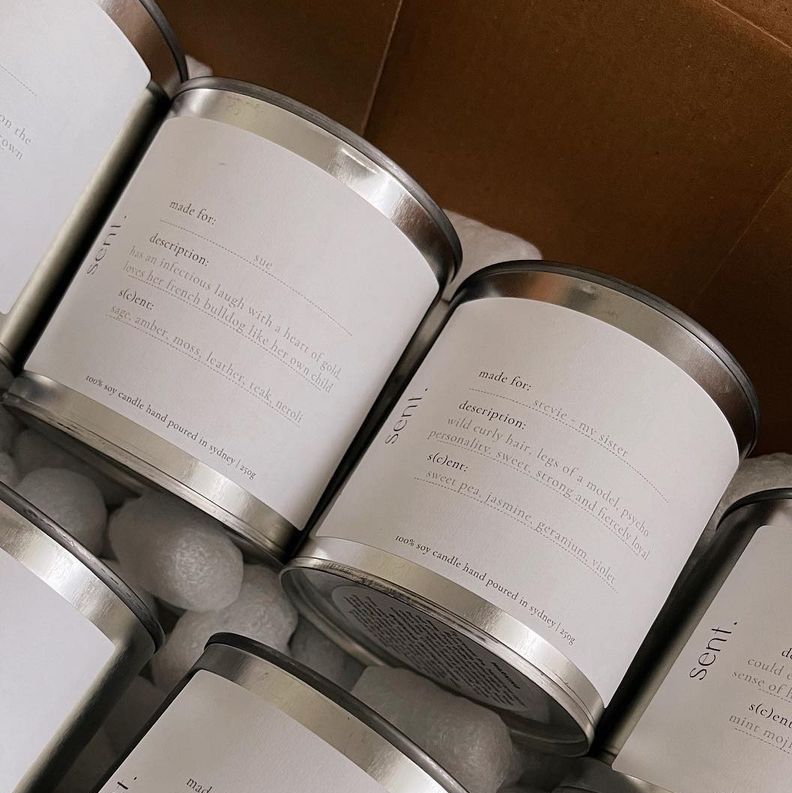 Step 2: We start creating

Our team reviews your answers and quickly get to work. We determine the best scent notes for your custom candle, then curate a blend that will not only smell amazing, but is meaningful to you or your lucky recipient.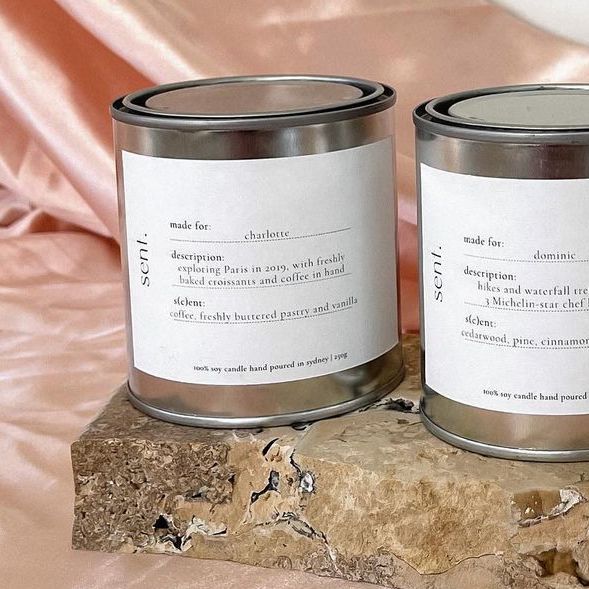 Step 3: You say hello to your own candle

Once we've poured your custom candle, we deliver it straight to your door. Your label will include a short description and fragrance scent notes directly inspired by the answers you gave us!
What people are saying
"Love love love!"
Thank you for my custom candle for my new house! I am obsessed with it! I have been trying to come up with the perfect scent for months and you nailed it in one try!
Lauren G
/ for the new house
"Tears to my eyes"
The description and scent is amazing, the personalised candle is so perfect. Everything is just amazing. I can't wait to light it up and thank of all the good memories.
Jenny J
/ FOR A BELOVED PET
"Bringing back memories"
Best of all, a personalised scent?! You guys nailed it! Love this scent! It really brings back memories of Japan.
Shereen T
/ FOR A TRIP TO REMEMBER
"Thank you so much!!"
Thank you for the amazing personalised housewarming candle you made for my dear friends. Your creative candle brought so much joy to them and their big milestone!!
Chi C
/ for a friends housewarming
"Perfect"
My husband loved his and the custom scent was perfect, just what he was looking for. Thank you so much
Elizabeth M
/ for an anniversary
need some help?
Frequently Asked Questions
If you've ever thought of creating your very own custom candle scent but have absolutely no idea where to start, sent studio is here to help. We create one-of-a-kind, planet-conscious candles that help you treasure the people, places and favourite moments of life that you love the most.

Whether it's a special place, that unforgettable trip, or just a feeling you want to revisit, we've got you! Our hand-poured soy candles aren't just about a scent; they're about your story.

Start thinking of what you want your very own personalised candle to look like and get started today!
How Much Are Your Custom Candles?
Our custom candles are priced at $70 AUD. They're poured into our 250g tins with a burn time of 40-45 hours. And once you're done with your candle, you can throw your tin straight into the recycling bin :)
How Long Will It Take for My Candles to Be Made Once I've Placed an Order?
Due to the bespoke nature of our personalised candles, we typically ask you to allow 7-10 business days for us to create your order. This gives us time to source your oils (if needed), hand-pour the candle, and let it cure in our studio before packing and sending it to you!
Help! I Need My Custom Candle ASAP, Can You Help With an Urgent Order?
Never say never! If you're in need of a custom candle in Australia urgently, we can usually prioritise your order if we already have the oils required in stock. DM, live chat or email us with what you're after and we can let you know :) 
P.s: We also have express delivery and next-day delivery options so you can ensure your candle gets to you on time.
How Are Your Candles Personalised?
At sent studio's 'the candle bar', we currently own 300+ fragrance oils that help us to blend your unique custom candle scent. We analyse your answers and comb through combinations to find a perfect match, then pour your personalised candle! It also comes with a box including more scent note details, as well as a customised label.
Can You Create a Scented Soy Candle From Something I Already Own?
We sure can! We've created scented soy candles inspired by perfumes and even old, discontinued scents. If you have a physical item you'd like us to work with, you can email us for the best address to send it to. Once we create your candle, we can ship your item back with it or dispose of it at your request.
Can I Pick My Custom Candle Up?
You can select to have your personalised candle order picked up from our showroom. It should be available as the 'local pickup' option at checkout. You'll receive an email with instructions once your order is ready for pickup.
What's Included With the Custom Candle?
Apart from your very special personalised candle scent, included in your custom candle is also a label which has a short description and fragrance scent notes directly inspired by the answers you gave us. The outer box is also customised, with the date of creation and what we like to call a 'candle story', a longer explanation of why this specific candle was created.
The more detail you give us for your candle, the more detailed we can be on your labels :)
Do You Send Email Proofs for Approval?
Yes! If you request for a label proof in your order notes, or DM/email us after your order has been placed, we'd be more than happy to send it over before your label goes into printing. 
What if My Description or Name Is Too Long for the Candle?
We allow a maximum of 80 words for the candle description and a maximum of 20 words for the 'made for' section of the candle. If any of your descriptions or names are too long, we'll manually shorten them for you as best we can whilst keeping the original intention behind the words.
I Made a Mistake on the Candle Label or Scent!
Oh no! Unfortunately, we cannot refund or exchange candles for any mistakes made during the quiz process. Our team tries their best to clean up any basic spelling or grammatical errors. However, we do have a disclaimer at the end of the quiz to ensure you double-check your answers, as we are not liable for any mistakes made.
However, we would be more than happy to send you a new label for your sent studio Australian scented candles if you do wish to have it replaced. Email us at hello@sentstudio.co!  
What if I Don't Like the Scent?
We're lucky not to have had anyone dislike the scent of their custom candle. Understandably, scent is very subjective, and we realise it may not be exactly what you had in mind. We try our best to interpret answers and make it as close as possible to what you've described in the quiz. This is why we do ask you to be as detailed as you can so we can have lots to work with.
If you do truly have an issue with your custom candle, please email us at hello@sentstudio.co and we can see how we can help.
If I Want to Order the Same Custom Candle Again, Can I?
Of course! We mark down all your scent details, so if you'd like to recreate the same one (like a very special lavender scented candle, for example), just let us know which custom candle you'd like to re-order (an order confirmation or the name you ordered from), and we can get straight to it.
Do You Do Custom Bulk Orders?
We sure do! We can create a custom scent for any occasion - weddings, baby showers, corporate gifting and birthdays. We also have bulk pricing options available too and custom designs. Please email us at wholesale@sentstudio.co for more information.
What Kinds of Scents Can I Choose to Make My Custom Candle?
You can choose whichever scent base you'd like included in your candle. Simply tell us the base (woody, floral, citrus, etc.), or leave itt up to us if you'd like a surprise!
If you prefer having a little more control, we completely understand. When you're going through the custom candle experience, simply let us know if you'd like specific notes or scents added to your candle (or if you'd like to avoid certain notes). 
For example, if you're buying a candle for your best friend and they're a coffee addict, you may want to stress their love for coffee-scented candles when you're creating theirs. Simply let us know, and we'll work with you to make it perfect!
If you're in need of scent inspo, take a look at our signature scent range.
What Is the Process of Ordering a Custom Candle?
If you're on the hunt for the perfect custom candles in Australia, sent studio makes the process super easy. 'The candle bar', our personalised candle creator, is a fun and easy quiz that makes customising your unique candle an interactive experience.
When you order your personalised candle, you'll be asked what it's  inspired by: a person, place or memory. Our quiz lets us know all about what you're basing your custom scented candle on. Let us know what base you'd like, and if there are any specific scents you want included – or leave it up to us!
Can I Include a Custom Message on My Personalised Candle?
Of course you can! If you want to include a message to the person you're gifting a personalised candle to, you will have the opportunity to include a unique message that will be featured on the candle's tin. You can also place their name on the candle so they know you've made it especially for them :)
Do You Offer Bulk Discounts for Large Custom Candle Orders?
Yes, we do! At sent studio, we offer bulk discounts on candle orders of 15 or more! Whether you're stocking up on candles for personal use or are planning on giving them as gifts to guests at an event, our wholesale candles are the perfect touch. Please reach out to wholesale@sentstudio.co for more information and pricing.
Start crafting your very own personalised candle today using the candle bar! If you have any questions about the process or your order, please get in touch.